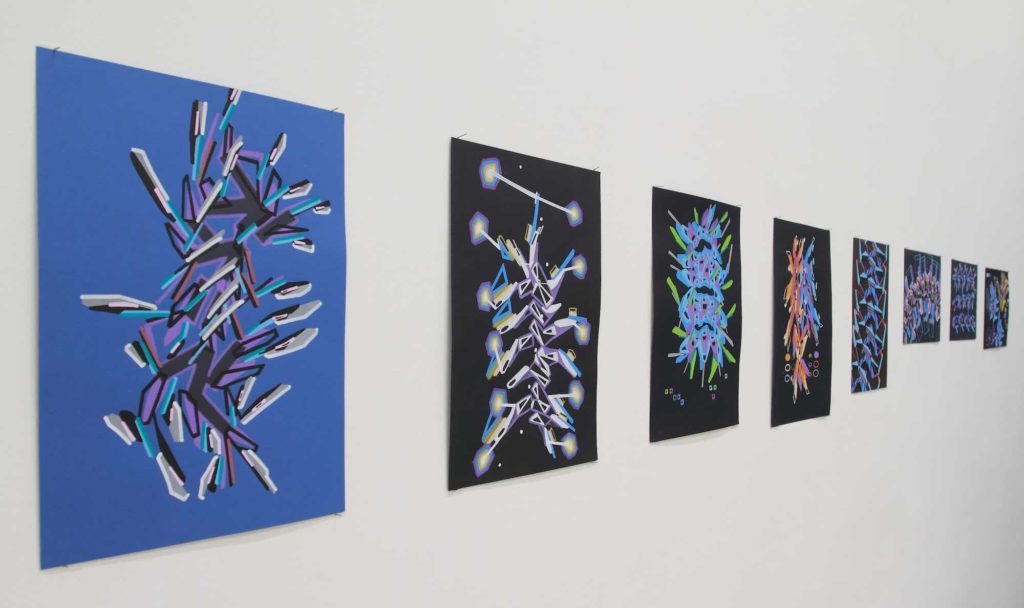 Technical sheet: n.13 acrylic, enamel and felt-tip pen on paper, 7 acrylics on canvas, 1 chalk sculpture and inserts of enamelled acetate.
---
In this short exibition, we will talk about writing, the most abstract art that exists par excellance.
In fact, only the obligation of a long discipline, i.e. school education, gives us the image of a dog, when we read these curved lines that are sometimes interrupted, and allows us the vision of abstract concepts such as prudence or perseverance.
We can even see the "broken" dog, that is the d, o, g, and without any correspondence to the parts of the same, legs, nose, snout, but as to weave and combine reeds.
So what do the figures of Fabrizio Ortu tell us, these elaborations of graphic signs imagined as alien writing where colors and signs develop according to rules unknown to us?
But above all, do we really want norms and explanations that reveal the enigma, depriving us, at the same time, of the fascination of mystery and mortifying our imagination and our intellectual efforts?
I have always wondered if the annoyance that we experience when someone reveals the name of the murderer prematurely is not the same one that dwells in the art when you simplify the work of an artist in a simplified way, attributing it for example to an artistic current, depriving the viewer of the originality of the discovery.
Biography: Fabrizio Ortu (Nuoro 1977) lives and works in Nuoro.