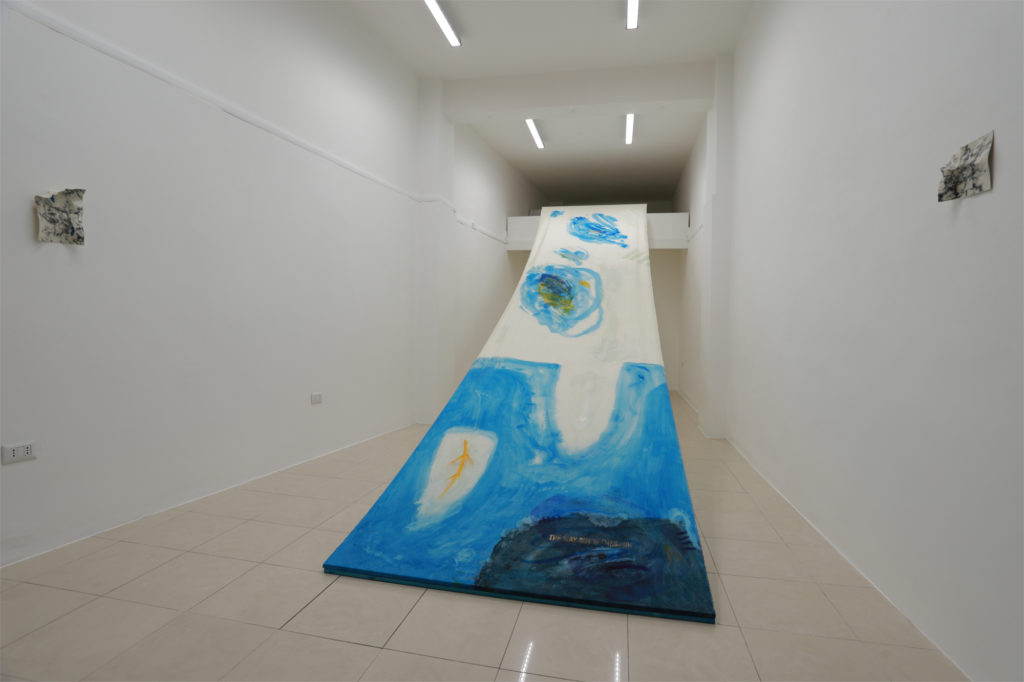 Tecnical sheet: THE WAY OUT IS THROUGH, 2019, Painting, chalcography and silk-screen printing on cotton, 150 x 700 cm; AIR FAME # 3, 2019, Screen printing and manual impression on play dough, 20×20 cm, 3 pieces; HALO 1/3, 2019, Stereo sound, 130″ approx.
Synopsis
…..
You: «You'll fail, you've never been good (that good) at it.»
Me: «How come, then, I got to you?»
You: «I was bringing you here, but you stopped.»
Me: «You said that I never stop.»
You: «I thought it was normal to remember you.»
Me: «And also leaving me here, halfway, instead?»
You: «I never brought you further than where you deserved.»
Me: «I never went further than I wanted to.»
Biography: Alberto Marci (Cagliari 1985) has completed his studies at the Academy of Fine Arts in Florence in the Graphic Art section. His training in the areas of experimentation and engraving languages took place in the atelier Casa Falconieri, where from 1999 to 2009 he took part in experimental and research masters. Presented at the Estampa art fair, in the young section of Casa Falconieri from 2004 to 2009, in 2004 and in 2005, he obtained two scholarships from the Fundaciòn CIEC. Artist reported in the 2006 edition of the "Pietro Parigi graphics prize". In 2008 and 2009 he took part in the residencies on the artist's book "Reinventare gli Spazi" and "Laboratorio dell'Inquietudine" at the Stazione dell'Arte Foundation in Ulassai, Sardinia. Presented by Casa Falconieri at the 2010 "IKASART II" festival in Bilbao. In 2010 he is the beneficiary of a Master & Back scholarship of the Sardinia Region. Artist invited for the "1st Encuentro Alfara-CIEC" at the Alfara studio in Salamanca. Selected, paired with Maria Penela, for the artistic residences of the "Bienal de Cerveira" in Portugal. Currently he develops his own research work and at the same time he dedicates himself to teaching the printing techniques and publishing for other artists. He has participated in various group exhibitions, his works are present in Italian and foreign public and private collections.