21 September – 6 October 2018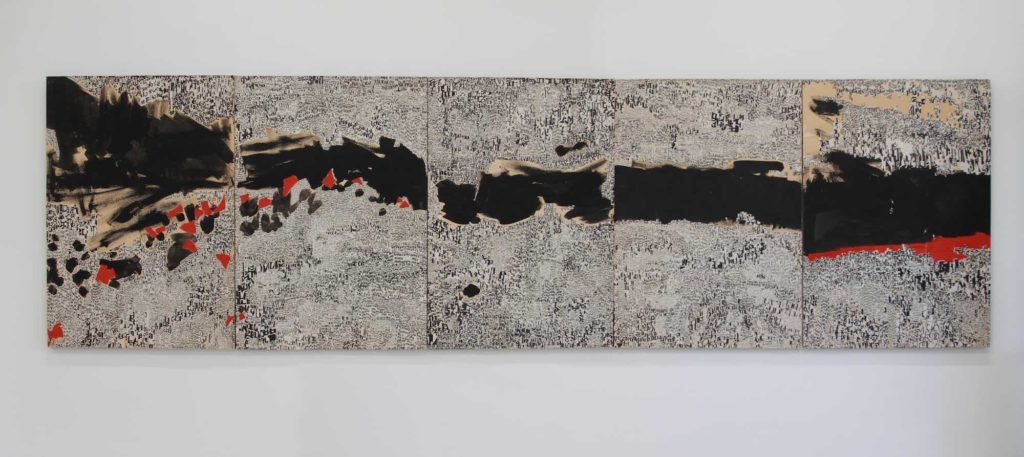 Technical sheet: n. 25 15x15cm collage on board made in 2016-17, 72.5x103cm collage and acrylic on cardboard composed of 5 elements made in 1982, n.19 15x15cm acrylics and collage on canvas made in 2017, n.1 90x100cm acrylic and collage on canvas made in 2004.
---
A series of works, collages and "burka eyes" that embrace thirty years of Zaza Calzia's production, are displayed in the current exhibition in Cagliari (via Mameli 187) at Spazio E_EmmE.
The collages, a technique used by the artist since the 60s, are combined with paintings to create layers and spaces in motion, aided in this by the author's intuition of adding newspapers' clippings to her art. The fragments of printed words, reduced to a pure sign, stimulate and force the eye to travel on the surface of the painting with tight rhythms, introducing a fourth dimension – time – to a two-dimensional surface.
Over time, the artist has rarefied the surfaces of the collage, looking for the rhythm of breathing within the continuous color planes.
The fragments of paper, intuitions and emotions, have occupied small dimensions, drawing expressive force from the wise use of a white paper support. It is the color that, by instinct, humans identify with nothing, for the ease with which it highlights every minute change.
Dark and wavy acrylics, brushstrokes full of pathos and energy, emerge, like archaic deities or vigilant eyes of women, inquisitive and extraordinarily serene, bearers of a knowledge that is lost in the mists of time.
Being enigmatic, they do not offer solutions, leaving us to alternate/wander between the yearning for research in that chaos and the illusion of a definition of balance.
If the "eyes" of Zaza are open on chaotic worlds defined by swirling movements, the panorama that they observe with a fervent and inquisitive expression is a dance: a dance for the eyes and for life.
Biography: Zaza Calzia (Cagliari 1932), lives and works in Rome.