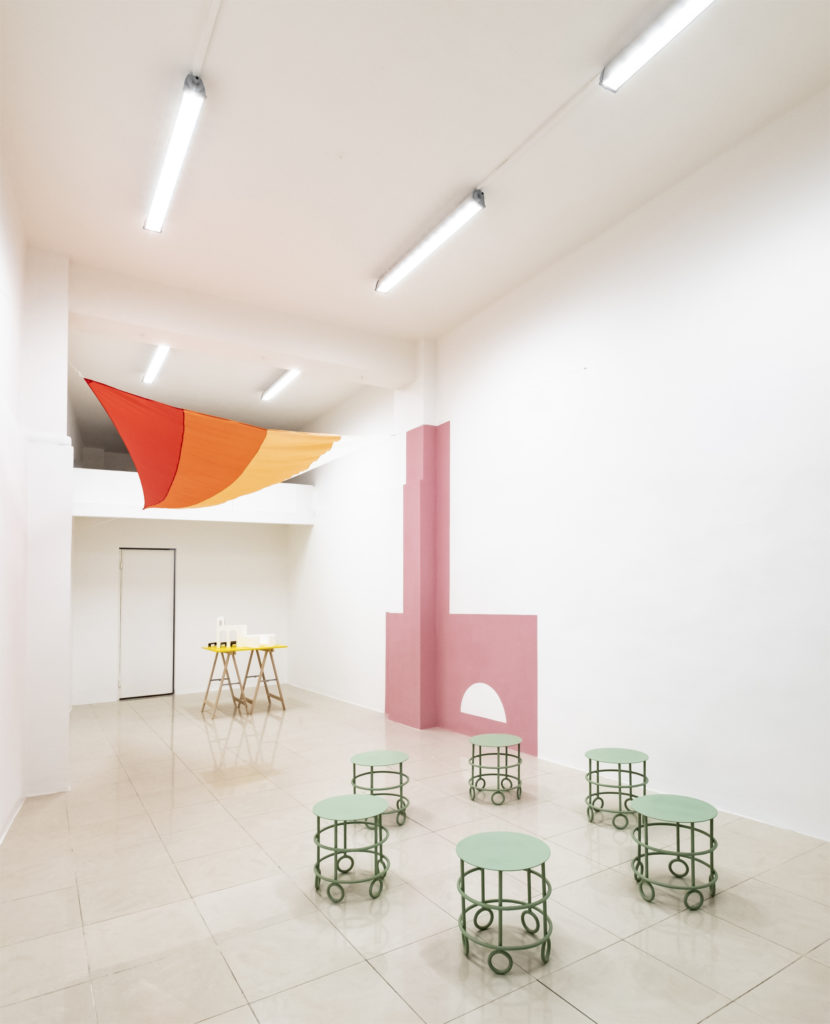 Technical sheet: Forno, wall painting, 2019, environment size; Nuragic alliance, 6 lacquered iron stools, 2018, height 35.5 cm, diameter 32 cm; Paese bianco, plastic: vegetable cardboard, wall paint and acrylic paint, 2017, variable dimensions; Umbraghe, colored viscose, 2018, cm 245x195.
The Nuragic Alliance exhibition brings together the testimonies of some typical meeting places of Sardinian culture, with the aim of analyzing the importance of the spaces for dialogue in the construction of a community.
White Town is a model that evokes the main features of rural churches, which in Sardinia are, in some cases, built over the sites of nuragic sanctuaries. The result is a coexistence of architecture from different eras, that can be thus compared, such as the nuragic huts, whose fixed seats follow the internal perimeter, and the open spaces around the church, which also – thanks to the versatility of easily movable benches and chairs – adapt to different forms of assembly. The research on color, manifest in many works on display, comes from a direct sampling of the colors showed in Fiorenzo Serra's documentary La novena (1967), about the holidays in the Sardinian shrines called novenari.
The image of a circular meeting, devoid of explicit hierarchies (a typical feature of nuragic contexts), is also present in the arrangement of a series of stools designed on the basis of the ones that the nuragic people represented in miniature in the votive bronzes. The installation implicitly invites the audience to sit down, thus creating a physical space for dialogue within the exhibition. The pink outline of a large oven is painted on a wall: it is another example of a fundamental community moment for the Sardinian people, the baking of bread, which is characterized by the use of particularly elaborate masonry ovens.
The set of these elements (the stools, the oven, the table on which the model is displayed) can be seen as a reference to a single interior space, like the kitchen of an imaginary ethnographic museum, while a suspended cloth refers to those that, in open spaces, are used to shelter from the heat of the Sun: another perimeter within which, once again, people can meet.
photos by Barbara Pau and Marco Fronteddu
Stefano Serusi (Alghero 1980) lives and works in Milan. From the beginning of his journey his work has developed almost naturally in site specific interventions, in which objects and installation works can contribute to a narration. Among the most recent group exhibitions: "Teatrum Botanicum", PAV, Torino (2016) and "Progetto Città Ideale presents Edicola Radetzky", at the PAC Contemporary Art Pavilion, Milan (2016) Among the solo shows: "MVS € 0 ", At Display (Parma, 2018)," Sleeping giant ", at the Casa Manno Museum (Alghero, 2017) .In Milan he is one of the founders of Edicola Radetzky.