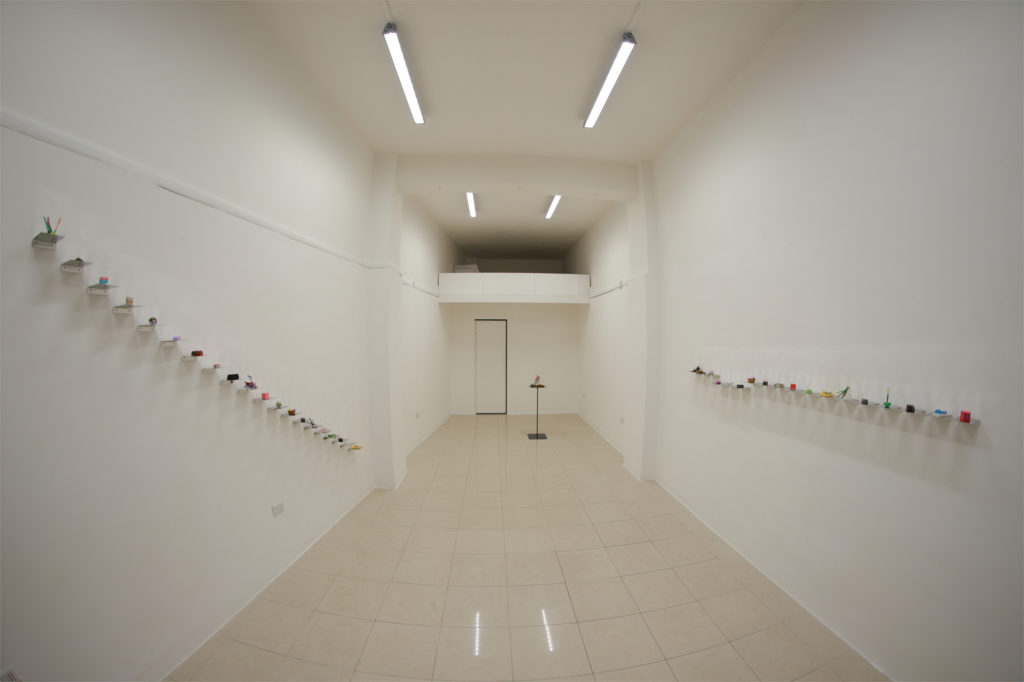 Works
Ruggero Baragliu – pastiche # – n. 35 pieces; mdf, acrylic color, two-component resin, dimensions: max 22x12x7 cm, min 4x2x2 cm, 2020.
Samuele Pigliapochi – pastiche% – n. 35 pieces; chalk, acrylic colors, fluorescent vinyl colors, beeswax, dimensions: max 6×3.4×6 cm, min 3.4×3.4×3.4 cm, 2020.
Angelo Spatola – pastiche * – n. 35 pieces; marble, sectioned canvas, industrial enamel, iridescent film, plaster, acrylic paint, dimensions: max 8,5×8,5×1,5 cm, min 4x8x2 cm, 2020.
The last project by Idem Studio, Pastiche, stems from and within a party game, as well as a play of exchanges and contaminations. It stands as anironical and mocking homage to social mores, as well as to the dominant market laws of the art world.
The artworks of the Turin-based trio offer themselves to the eyes, with an overtly blatant attitude: they are like precious cameos, resembling eatable candies, alluring and seductive, and lonely like solitaire diamonds.
In search of complicity and submissive consensus, gaudy yet ambiguous, such artworks hunt for a new home and master. They eventually offer the one and only commodity being produced and put up for sale, yet that no nobody can ever really buy: imagination.
photos by Marco Fronteddu
IDEM Studio was born in 2015 from the sharing of research by the three artists Ruggero Baragliu, Samuele Pigliapochi and Angelo Spatola.
IDEM Studio is located in via Vincenzo Lancia 4 in Turin; the three artists periodically presents to the public the result of the synergic designs in part of laboratory, 40 sqm adibited as exhibition space .