February 27 –  march 1, 2019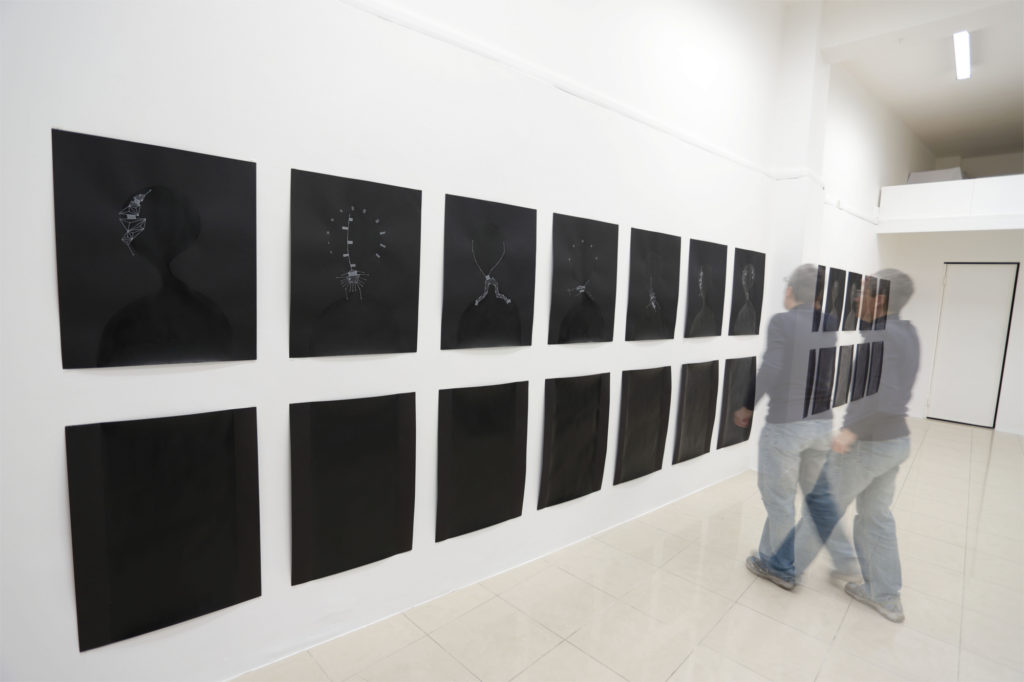 Technical sheet: 24 sheets of black paper, crackling and white pen.
Along the entire wall of the gallery 24 shadows follow one another the same except for the white pencil marks located in the head.
We do not know if we are looking at the shadow of ourselves or our comrades, acquaintances, strangers met by chance.
Andrea Colombu, was born in Cagliari in 1973 where, still today, he lives and works. During his adolescence he enrolled at the "Foiso Fois" State High School in Cagliari.
He graduated in the mid-1990s and moved to Perugia, where he attended the "Pietro Vannucci" Academy of Fine Arts. The first works are from that decade, and the initial themes that characterize them are strongly influenced by the gestural painting, and refer to artistic movements such as Informal Art.
While formal research pushes him into the study of purer geometries, the contamination of conceptual art leads him to marry the idea of symbolic content.
The last years of the decade see him in full experimentation with materials. Paper, stone, iron, coal, chalk and ink.
After completing his academic studies, in 2000 he completely abandoned the use of the subject to face new techniques and compositional processes, such as photography and vector graphics, often supported by drawing.
Daily processes that take on a meditative and introspective character, in the observation of contemporary society.

www.instagram.com/unodelmacabro
Photos by Marco Fronteddu, Andrea Colombu