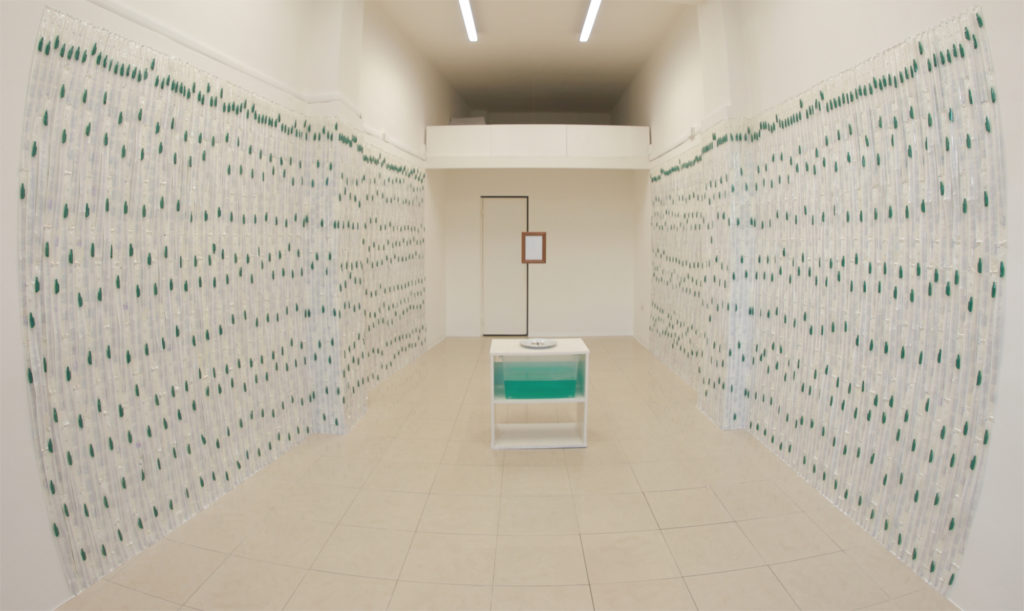 Technical data sheet: installation of room size with 1300 single-use probes for tracheobronchial aspiration with points with distant and lateral holes, 2600 steel nails; white chipboard cabinet, white rectangular basin filled with green cleaning liquid, a white porcelain plate with a silver-decorated edge, dragonfly, 21×15 cm framed hat.
Requiem / ‹rèkuiem› is the winning project of the competition: "CONTEMPORANEA @ Spazio E_EMME" edition 2018/2019, an action of the Piano delle Arti of the Liceo Artistico "G.Brotzu" of Quartu S. Elena in collaboration with Spazio E_EMME via Mameli 187, Cagliari.
CONTEMPORANEA is a project carried out online by the G. Brotzu High School, Comune di Quartu S. Elena, Artists, Gallery owners, Performing Arts Festival, Film Festival, Curators, Exhibition Spaces.
The Mission: to offer students fertile ground that favors the creation of works of art also through the use of new languages of contemporary art and is able to favor exchange and reflection, a laboratory in which the school opens to the territory, to the places assigned to the use of the Art but also to "other" spaces that allow a spread of Contemporary Art among the common people.