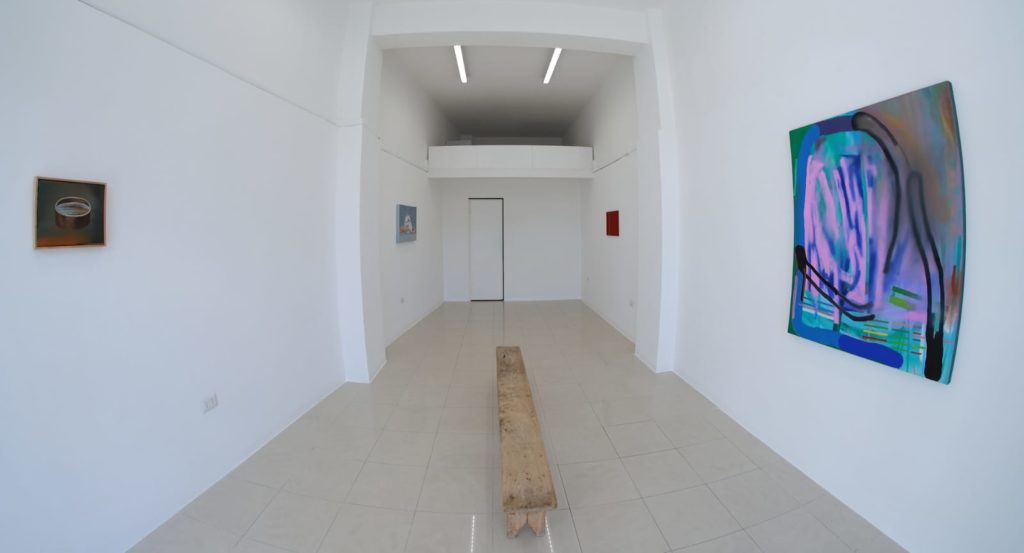 Tecnical sheet:
Marco Cianciotta senza titolo, gold leaf gauze pigments on canvas , cm50x35, 2019
Ruggero Baragliu senza titolo, oil and acrylic on cotton canvas, cm100x120, 2017
Rachele Sotgiu everythink flowed in the the water, quickly, oil on canvas, cm30x24, 2017
Elio Ticca frammenti #2 (Redentore), oil on canvas, cm70x50, 2017
Carlo Spiga and Carolina Casula Dissoneddas by Carlo Spiga, launeddas, 27.12.2019 at18,30
Marco Pittau Insolitaria by Marco Pittau, 2 trumpets, percussion, arco a bocca 28.12.2019 at 18.00
photo by Marco Fronteddu
A gift from the artist is the annual appointment that begins immediately after the Christmas holidays and ends on the last day of the year. This year, from the 27th to the 30th of December, seven artists will offer you a moment of their poetic research.
Ruggero Baragliu, Marco Cianciotta, Rachele Sotgiu, Elio Ticca, with their pictures, Carlo Spiga and Carolina Casula on December 27th – from 6.30pm – with launeddas and voice will play Dissoneddas by Carlo Spiga, and Marco Pittau on December 28th – from 6.00pm – with trumpet play his music track Insolitaria.
Dedicated to my mother
https://makika.bandcamp.com/track/dissoneddas www.candidecitoalice.com http://cargocollective.com/RacheleSotgiu Instagram/ruggerobaragliu